2002

IN WHAT WE TRUST gehört zusammen mit 'Votomatic' zu einem Komplex von Arbeiten, bei dem Petra Liebl-Osborne ihre Aufmerksamkeit – in einem Blick von 'Außen' auf unterschiedlichste Erscheinungen kultureller Äußerungen im amerikanischen Alltagsleben richtet.
Gemeinsam mit der Fotografin und Künstlerin Petra Gerschner hat sie zur open art 2002 den Umgang mit Symbolen und Verbreitungsformen von Insignien untersucht, die als Glaubensbekenntnisse dienen und nach dem 11. September 2001 in den USA und Westeuropa an Bedeutung gewannen. In der Abwandlung der Maxime IN GOD WE TRUST (auf dem Dollarschein) haben Petra Gerschner und Petra Liebl-Osborne kulturelle, identitätsstiftende und gesellschaftspolitische Phänomene in Krisen- und Kriegszeiten hinterfragt. Petra Gerschner setzte für IN WHAT WE TRUST Bilder aus der Eigenwerbung der Bundeswehr in einen neuen Bedeutungszusammenhang. Petra Liebl-Osborne hat Gegenstände ausgewählt, die den politischen Standort zeichenhaft repräsentieren und als Attribute der Selbstvergewisserung dienen. Als Etikett für patriotische Gesinnung be-zeichnet und be-schreibt das Muster der 'stars and stripes' die Oberflächen unterschiedlichster Gegenstände der profanen Welt und ihr graphisches Muster wird in allen erdenklichen Formen konjugiert. In der Ausstellung IN WHAT WE TRUST wurden u.a. 38 verschiedene patriotische Stoffmuster aus der Herbst- und Winterkollektion 2001/2002 präsentiert, die in Amerika in den Stoffabteilungen der Kaufhaus-Kette Wal-Mart angeboten wurden. Der Stellenwert der amerikanischen Flagge, die von jeher als einigendes Symbol einer pluralistischen Gesellschaft fungiert, ist dabei mit unserem Verhältnis zu nationalen und staatlichen Insignien (im Jahr 2002) nicht zu vergleichen.
Petra Gerschner und Petra Liebl-Osborne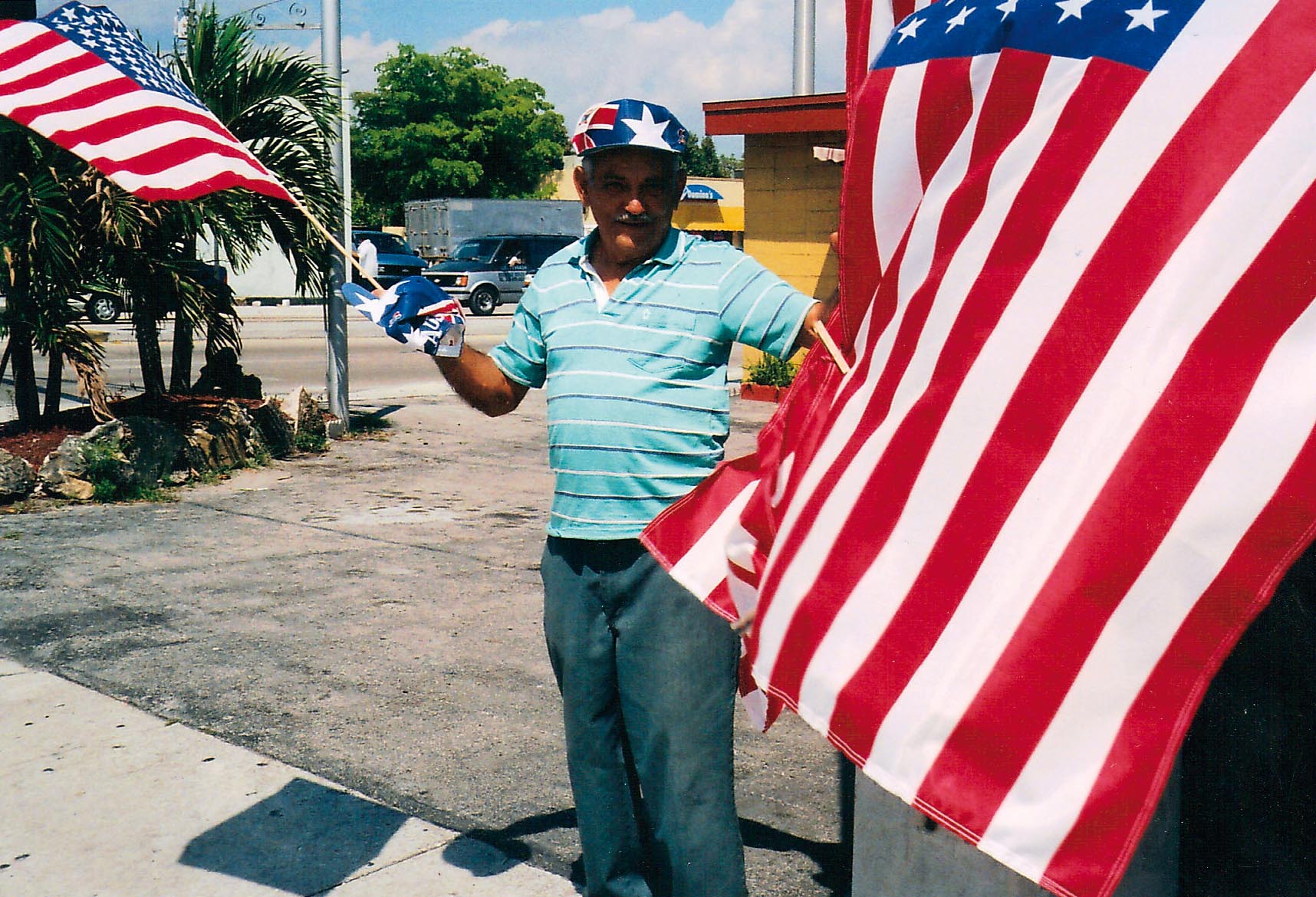 IN WHAT WE TRUST belongs together with 'Votomatic' to a complex of Petra Liebl- Osborne's works where she directs her attention – in a view from 'outside' – to the most different phenomena of cultural expression in American daily life.
For open art 2002 she investigated together with the photographer and artist Petra Gerschner the handling and distributing of symbols and insignia that served as statement of belief and which substantially gained importance after September 11, 2001. In modification of the maxim IN GOD WE TRUST (printed on the Dollar bill) Petra Gerschner and Petra Liebl-Osborne scrutinized cultural, identity-creating and socio-political entities in times of crises and war. For IN WHAT WE TRUST Petra Gerschner composes images of the self-advertising of the German Bundeswehr in a new context. Petra Liebl-Osborne is choosing objects that emblematically represent a political point of view and serve as attributes of self-assurance. As symbol of a patriotic credo the pattern of the 'stars and stripes' de-signs and de-scribes the surface of innumerous objects of the profane world and the graphic pattern is conjugated in all imaginable forms. In the exhibit e.g. a variety of 38 patriotic pattern of cloth from the fall/winter collection 2001/2002, offered at Wal-Mart, were presented. Though the significance of the Stars-spangled Banner, which since ever functions as unifying symbol in a pluralistic society, is not to be compared with our relation to national and stately insignia (in 2002).
Petra Gerschner und Petra Liebl-Osborne